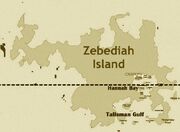 The Princedom of Zebediah was a realm located on Zebediah Island, one of the smaller landmasses on Safehold's eastern hemisphere. It was a monarchy ruled by a Prince.
The Princedom ceized to exist when the League of Corisande, lead by Hektor Daykyn, conquered the island and defeated, deposed, and executed the last Prince of Zebediah in the middle of the 9th Century of God. The government was supposedly a corrupt institution, which supposedly came to an end when it was replaced by the Corisadian one, which appointed a Grand Duke as the senior nobleman in charge of Zebediah. (BSRA)
References
Edit
Ad blocker interference detected!
Wikia is a free-to-use site that makes money from advertising. We have a modified experience for viewers using ad blockers

Wikia is not accessible if you've made further modifications. Remove the custom ad blocker rule(s) and the page will load as expected.